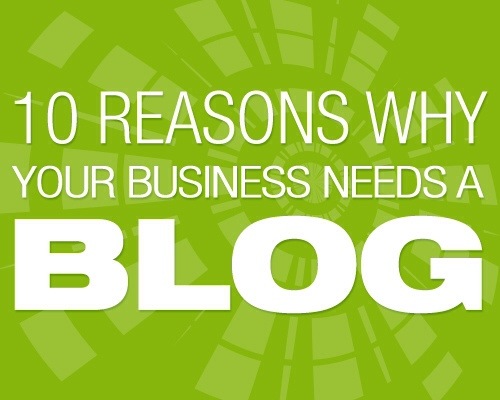 10 reasons why your business needs a blog
Last year content really came into sharp focus, forming the foundation for all successful social media marketing and SEO. In 2014 the focus on content has remained at the top of the digital marketing agenda, making it more critical than ever that your business is producing high quality content, and the easiest way to do this, is via a business blog.
A recent survey by Maxus For Business, found that 70% of business people thought that B2B brands did not know how to communicate with them on social media. This is a common problem that I encounter when I run social media training sessions. Businesses just don't know what to post about, and so end up reverting back to the same old sales messages, which are ineffective at building followers and driving engagement.
"If you are not publishing relevant, high quality content regularly, you'll struggle to convince Google that you are an authority"
Creating your own content via a blog, gives you something to talk about on social media and is an excellent way to attract new customers, and this is true for both B2C and B2B businesses. Having a blog also means you are sending powerful signals to Google, providing you with added SEO (search engine optimisation) benefits, outlined in more detail below.
The Business Benefits of a Blog
• Content marketing (blogging), is a critical component of SEO (search engine optimisation). Without regularly publishing high quality, relevant content, you'll struggle to get Google to see you as an 'authority', meaning you are less likely to rank well in search
• A blog can be used to demonstrate your expertise; this helps build trust in your business and it also has a positive effect on SEO as it signals to Google that you are an authority in your niche
• A blog provides you with owned content; a tangible asset when it comes to content marketing
• A regularly updated blog gives you content that you can reference or quote when you post on social media
• You can refer customers to your blog for useful information or for detailed explanations of certain aspects of your products or services
• All of your blog articles will get indexed by search engines just like the other pages on your website, giving you extra visibility in search
• Blogs are excellent when it comes to presenting detailed technical information, research and analysis. You may not want to clutter your website or dilute your key messaging by including too much in-depth information, but your blog is the ideal place for this
• You can use your blog to post company news, press releases and to promote special offers
• Having a blog will help you to drive more traffic to your website
• 'Evergreen' blog content has long-term benefits and is something you can reference over and over again on your social media channels – Hubspot claims that about 70% of their monthly traffic comes from old blog posts
Getting Started With Your Business Blog
The key to creating strong content lies in your ability to identify and understand the needs of your target audience.
Related Resources from B2C
" Free Webcast: Bye-Bye Solution Selling: Why Sales Teams Are Moving To Insight Selling
Who are your customers? What are their pain points? What kind of questions do they commonly ask? What interests do they have?
"Make sure your content is relevant – the more tenuous the link, the less likely it is to benefit you. Don't ever newsjack or write about celebrities for example, if the topic is irrelevant to your business."
Stick to writing about your core areas of expertise, publish helpful and relevant articles and blog about news, case studies, testimonials and industry developments, adding value by offering your own unique take. You can also use your blog as an extension of your website, but make sure that key information isn't hidden away on the blog instead of being included on the website.